2014 Accreon Fall Classic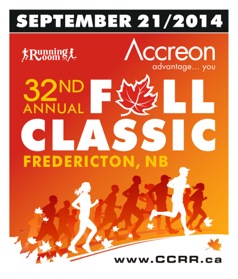 Date: September 21st, 2014
Location: Fredericton, New Brunswick
On September 21st, 2014 the 32nd annual Fall Classic will take place in Fredericton. For the third year in a row the event is sponsored by Accreon, making it the Accreon Fall Classic!
Our events include the 5K, 10K and Half Marathon and a 3K Middle School Challenge. We will also hold a 1K Kids Fun Run (just 1,000 meters!), which will be held the day before the bigger events, on September 20th, on the green by the Crowne Plaza.
Facebook and Twitter
Stay focused, stay informed: check out our Facebook page for latest news or info or if you would like to ask a question.
Follow us on Twitter: @Accreonfallclsc