Annual Run NB Awards Banquet & Kitchen Party
October 24th, 2011
A Celebration of Running.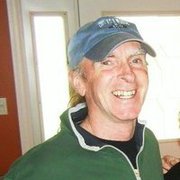 MARK YOUR CALENDERS On Saturday Evening, November 19th, our little club, CCRR, will host the Annual Run NB Awards Banquet and Kitchen Party. It is to be an evening of celebration and music. Roly McSorely, will be the guest speaker. Roly's daughter Kathleen, an accomp-lished and award winning musician, will provide the music.
Roly had been around the running scene for over thirty years, maybe close to forty. He was one of the first runners I met when first entering the running scene here in 1979. Roly has run everything from the Boston Marathon to 1500 meters with times that speak volumes to the runner who knows what efforts, endless training, and competitive spirit lies behind the numbers. Roly was inducted into the Fredericton Sports Hall of Fame on May 6th, 2000.
Roly is our guest speaker - sharing with us some thoughts about the celebration of running.
Mark your calenders and join us for a wonderful evening surrounded by runners. A time to renew old aquaintances and make new friends, Be sure to join us and give others the pleasure of your fine company.
the runningrev!
to sign up for a great evening please go to:
http://www.atlanticchip.ca/events/details.php?show=788
<><><><><><><><><><><><><><><><><><><><><><><><><><><><><><><><><><><><><><><><><>
RUNNING ROLY'S NUMBERS
Like rock star Bruce Springsteen, Fredericton's Roly McSorley was "Born to Run", and he has never stopped.

Roly McSorley was an all-star calibre hockey and baseball player, but he has made, and continues to make his mark as a runner. His running career started with marathons in the early 1980's. He completed in three Boston Marathons before turning his attention to middle distance running. He was the top middle distance runner in this province from 1989, winning two Provincial Outdoor and three Atlantic Outdoor Championships in that time span, as well as two Atlantic Indoor crowns.

Roly moved on to the international stage at about this time and he represented Canada at the World Francaphone Games in Morocco in 1989.

In 1991 he turned 40 and became a Master, both by age and by deed. He finished second at the Canadian Master's Championship in Halifax one week and seventh in the USA National Master's event the next week.

Roly continued to maintain a torrid pace, having finished first in the Master's at the Canadian Master's Championships in the 1,500 meters in 1996 and first in the USA National Master's in the 1,500 meters. He repeated his win at a meet in Orono,Maine in 1998. Roly was inducted into the Fredericton Sports Hall of Fame on May 6th, 2000.
Roly has run 16 Marathons including 3 Boston Marathons - here are some other numbers to peruse and digest!
· Competed for NB/Canada at Le Jeux de la Francophonie, Morocco, 1500 m
· 2 time US Masters 1500 m Champion
· 3 time Canadian Masters 1500 m Champion
· 2 Canadian Masters Records indoor mile
· Represented Canada at the World Veterans Track and Field Championships, 1500 m finalist
· 2nd place Canadian Masters Cross Country Championships
· 5th place US Masters Cross Country Championships
· Inducted to the Fredericton Sports Wall of Fame 2011
Best Times:
· 800 m – 1:53
· 1500 m – 3:55
· Road mile – 4:12
· 3000 m - 8:31
· 5000 m – 14:30
· 10 km – 31:26
· 10 mile – 55:01
· 20 km – 69:41
· Marathon – 2:37:36
>>>>>>>>>>>>>>>>>>>>>>>>>>>>>>>>>>>>>>>>>>>>>>>>>>>>>>>>>>>>>>>>>>>>>>>>>>>>>>>>>>>>>>>>>>>>>>>>>>>>>>>>