Maritime soldier completes 570 K walk
June 25th, 2012
The Long Walk Home: From Oromocto to Antigonish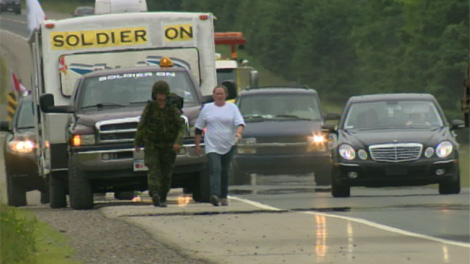 Cpl. Kate MacEachern arrives in Antigonish, Nova Scotia Friday evening, completing an 18 day walk from CFB Gagetown in New Brunswick. The young soldier made the 570 kilometre walk to help injured veterans
A long journey home came to an emotional end for a Maritime soldier Friday evening.
Cpl. Kate MacEachern strolled into her hometown of Antigonish, Nova Scotia, completing an 18 day walk from CFB Gagetown in New Brunswick.
The soldier made the entire walk in full military-gear.
An emotional MacEachern seemed overwhelmed by the support she received along the way.
"The biggest thing I realized is how strong family is, whether that's green or that's blood, they're behind you, and this is why I've done it" she told CTV News.
MacEachearn's walk, named "The Long Road Home" started on June fourth.
She wanted to raise money and awareness for the "Soldier On" program, which helps injured veterans.
"All I wanted to do was make a difference, and i realized today I think I did", she said.
The sentiment was echoed by Canada's top military man, who was among the hundreds of supporters on hand to greet MacEachern.
"It's a great human story, and one that is about perseverance and determination, and Kate herself had to overcome a great deal to make that journey" said Defence Minister Peter MacKay.
"It feels quite emotional to see her coming into her hometown and the remarkable reception that she got here."
There were suggestions the 570 kilometre walk may have been a world record.
UPDATE: In her march, she set a new world record for a soldier marching in full fighting order, wearing combat fatigues, tack vest, frag vest, helmet and full pack. Officially, she marched 510 kilometres on highways. However if you include visits to local communities and schools, she marched 572 kilometres