The Grecian Formula
August 10th, 2010
- THE GRECIAN FORMULA -
by the running rev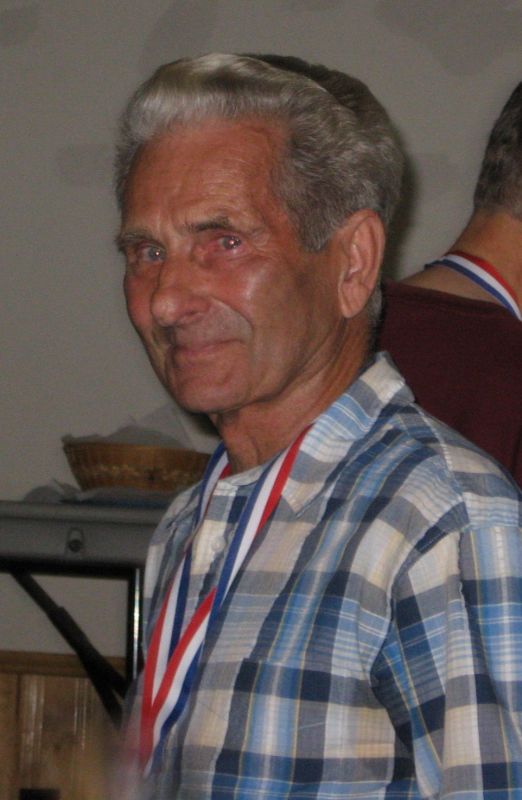 I well remember the first time encountering them. They were the exception to the rule. The year was 1981. They refused to toe the line, yet they did. When they did toe the line, it was on their terms. Unless you have been around the running scene for a while you probably won't recognize their names. Terry Goodlad. Billy Best. Danny Rearick to name but a very few.
They were the 'older' runners who toed the starting line when we younger runners thought they should have been home sitting in their armchairs falling alseep in front of the tv. As 'older' runners they were running better than 36 minute 10k's. I know that for a fact because back in the days as a thirty year old running 36 minute 10 k's these 'older' guys would finish ahead of me. It played with my head for a while. Then the realization dawned on me, and on the other younger runners, that just because you were older didn't mean you had to live a sedenary life. No such think as staying stationary or sitting in one place for these folks.
George Sheehan, another name from the past, set a world record for the mile way back in 1968. As a fifty year old he ran a 4:47 mile. His philosophy of life was summed up in the words "Man at any age is still the marvel of the universe." He was a doctor. If you are a runner, or into sports of any kind, you may have used his maxim: "Listen to your body." It's still good advice which we will always ignore to our detriment.
Dr. Sheehan taught that we are "an experiment of one". For Sheehan looked to the Greeks who gave us the Olympics. Do we not all secretly wish we were an Olympian or at least look like one? For the Greeks the supreme art was the art of existence. As the Greek philosopher Epictetus once said, "It is never too early or too late to care for the well being of the soul." This would be done through the care of the body, giving consideration to "health regimens, physical exercise, the carefully measured satisfaction of needs, plus the meditations, the reading, the notes taken on books read or conversations one has heard, the recollection of truths," as Michael Foucault wrote in discussing Greek life. The Grecian formula ... for the total involvement of the process of becoming a person.
Dr. Sheehan notes that this is only a beginning and that he "must add a retrweat within himself, talks with a guide or confidant, letters to solicit or give advice. Again in Focult's words, 'No less than an entire activity of speaking and writing in which the work on oneself and communication with others are linked together."
However, the one quote that speaks to me and was the driving force for George Sheehan to become a runner, came not from the Greeks, but from a French Bishop, Ireneaus, Bishop of Lyons ( France) and one of the 'early church fathers' who wrote "The Glory of God is man fully functioning". Sheehan realized that he wasn't functioning "fully" and so began running around his back yard - 26 laps to the mile. How many laps would that be to the kilometer?
The other day, down at the Chipman 10km Road Race, there were several 'older' runners. Something just dawned on me. At age fifty nine I'm one of them! I have already penned an article on 71 year old Frank Kelly who ran a 51 minute 10k and beat me by almost two minutes. ( http://www.ccrr.ca/footnotes.php?id=165 )
This other 'older' runner meets all the requirements of that auspicious title. His name is Ed Gallant ( see photo above ). He is 83 years and ran just under 30 minutes for the 5k race. Harry Drost couldn't do any better! Like his name, Mr. Gallant is charming and chivalrous until he laces up his running shoes then he becomes fiercly competitive. Ed isn't your ordinary octoganarian. Not many 83 year olds can run that fast. Heck, not many 38 year olds can run that fast.
Although Ed doesn't look his age, he looks 63 not 83 and he is highly, and I mean 'highly' competitive and has 'shocked' many a younger runner, including yours truly when he beat me over 5km when he was 78. Thank God I was older then and comfortable in my own skin. I was well on my way in the process of becoming a person. A lesser person would have been destroyed when Ed turned to me about 100 metres from the finish line and asked with a big grin "Are you going to let an old man beat you?" On that day there wasn't much I could do about it. But I trained hard that winter, dropped 10lbs and put Ed in his place the next year at the Chipman Race. Ed informed me that there were to be no bragging rights, for after all, all I had done was beat 'an old man'.
Ed began running when he turned 65. Loooking for something to do in retirement, Ed figured that his boys, both 2hrs 30mins marathoners, got their speed and endurance from him, so he took to running. He won everything in his age group. He put many younger runners in their place, playing with their heads when their feet couldn't move fast enough to keep up with this old man who was running like he was on the wings of the wind. Almost twenty years later Ed is still running. He has slowed down a bit but he is an example of what George Sheehan once noted: "Don't be concerned if running or exercise will add years to your life. Be concerned with adding life to your years."
Reflecting on the last 30 years and wondering just where they went to so fast, I am thankful for those 'older runners' who prepared the way and took the risk of looking foolish way back in the days before technical T-shirts and expensive highly engineered running shoes and of course that miracle of miracles ... the Garmin. George Sheehan was something of an 'oddity' as he ran around his hometown of Rumston, New Jersey, along the river road dressed in white long john's amd a ski mask during his lunch hour way back when and the running boom hadn't happened yet. I'm working at being something of an oddity myself as the years race past. However, Sheehan says it much more diplomatically when he wrote: "We are all unique, never to be repeated events".
I am drawn to Sheehan and his mostly 'steeped in Greek philosophy" which has informed my theology. Sheehan often quoted Robert Frost, whose words capture my approach to religion and life: "I am no longer concerned with good and evil. What concerns me is whether my offering will be acceptable."
So thanks Ed Gallant. Thanks for risking being an oddity - runner's code for unique. Thanks for toeing the line on your terms. Thanks for not sitting in your armchair and falling asleep watching tv. ( I must admit that after a race I've fallen asleep in front of the tv - but then its earned!) Thanks Ed for giving us younger runners - the 60 year olds hope for the future and for playing with the heads of the 40 and 30 year olds whose feet won't go as fast as they think they should when they see you out there. Thanks Ed, Frank, Terry, Billy, and Danny, and even Harry - the flying Dutchman Drost who will always be older than me.
And thanks Dr. George Sheehan for giving us words to fully express ourselves and a formula - a Grecian formula of sorts to help us face the challenges of life.
The running rev.