FOOTNOTES
August 19th, 2011
Ballymena Soldier Phillip Gillespie back to Fitness
An inspiring story of a gallant young man who lives in my hometown back in Northern Ireland. The courage, tenacity and determination of these young soldiers who have lost limbs simply leaves me in awe of the obstacles they struggle on a daily basis to overcome. Mr. Gillespie plans on running a marathon and also participate in the race2recovery initiative (car rally )where wounded soldiers seek to regain some of what they lost when injured. Such courage makes me stop and give thanks for the health I enjoy.
Blessings! the running rev!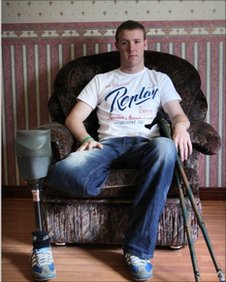 Ballymena soldier Phillip Gillespie was already on his third tour of duty in Afghanistan when his life changed dramatically last January.
The 23-year-old was badly injured as he stood on an improvised explosive device (IED) as he patrolled with his Royal Irish Regiment colleagues in Helmand province.
Eight months on, the soldier, who lost part of his right leg has adapted well to life as an amputee and has even spoken of his hopes to eventually run a marathon.
Phillip joined the Royal Irish Regiment in 2005 and went on his first tour in 2006 where he said he "lost good friends and grew up very fast".
"I always wanted to join the army right from I was a boy," he said.
"I was in the cadets when I was younger from the age of twelve and went up their ranks before I went for the regulars."
Phillip said the day of the incident was "just like any other morning" and he can still recall the exact moment he placed his foot on the device.
"It was a cold winter morning out in Afghan and I was just walking down a sandy path with overgrown trees on it when I put my right foot onto a pressure pad IED, it detonated and the next thing I knew I was on my back," he said.
'Full recollection'
"First of all I checked my body for injuries and my left foot was still attached at that time and my right foot was gone. It was quite a horrific sight to be honest.
"I had full recollection, I didn't go unconscious at all. When I looked down I saw my foot was gone and just thought it was all over."
Phillip underwent six or seven operations and then began intense physiotherapy before getting measured for prosthetics.
He now has a positive outlook and hopes to continue an active life.
"I just need to take a little more thought on how I do it and what is going to be the best way to do it, but I can do anything that I used to be able to do," he added.
The Galgorm man now plans to take part in the Dakar Rally in 2013 along with other wounded soldiers in the fundraising 'Race2Recovery' initiative.
The group will be raising money for Help for Heroes, The Royal British Legion and Combat Stress.