FOOTNOTES
February 25th, 2012
Marathon Man accused of hopping on a Bus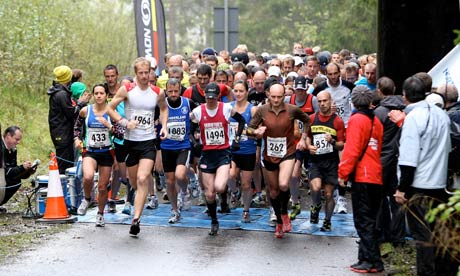 The BBC's Insise Out programme in the north-east has the first interview tonight with the marathon runner accused of cheating in October's Kieder race by taking a bus.
I have to admit that's what I would do but Rob Sloan says that he must have been muddled with someone else by astonished passengers whose driver pulled up for a mud-covered runner in a marathon vest.
The 32-year-old Sunderland Harriers runner was disqualified by the directpr of the race, the former world champion Steve Cram and has kept mum since then. But now he has said his piece to Inside Out's programme-makers, and also done the equivalent of the Kielder marathon on a treadmill for the BBC.
He took 3hrs 7mins, more than quarter of an hour longer than the 2hrs 51mins time in October which startled race officials.
Sloan had started well among the 1700-strong field but dropped away to tenth place then 'suddenly' came in third at the finishing line. Other runners challenged him immediately after the medal presentation and organisers later decided that there was clear evidence that he had done six miles of the race on the bus.
He tells Inside Out:
I did not cheat at any given point and I most certainly did not get on a bus. I think it's more a case of mistaken identity.
Everything revolves around running and I try to run 120 miles a week. My wife knows if it was between her and the running I'd choose running but thankfully she still stayed with me and stands by me. She's been very supportive over these whole shenanigans.
He doesn't seem to be winning people over. Bus passenger Scott Boylan tells the programme:
We were on the bus taking us up to the finish line and we saw some guy running by the side of the bus trying to flag the bus down so the driver pulled over and this guy gets on soaking wet and covered in mud with a marathon vest on and we joked that's the way to finish a marathon - to catch a bus.
Scott Boylan and Kate Smith, the bewildered bus passengers. Photograph: BBC
His friend Kate Smith adds:
The bus stopped and he got off and again we joked he's going to join back in now not thinking he would. When we saw the guy who finished third we said that's the guy who's just been on the bus with us.
Cram is barring Sloan from his events in future unless he admits the cheating and says sorry. He says:
I'm a bit sick and tired of him denying it now. We did give him the option early on when he did actually admit it to us on the phone and we prepared a statement which was basically saying he'd made a mistake and he'd apologised and we were happy with that. People do this in all marathons but the vast majority don't come in the top three.

Walking is so much easier.