FOOTNOTES
August 25th, 2011
Minister to Show Faith can climb mountains.
I met the Rev'd Canon Stuart Lloyd three years ago when I was hiking in the Glens of Antrim. He was raising funds for a hospital in Nepal by climbing Slemish mountain 50 times over a three day period. He needed to average 17 climbs per day. The weather was 'wile' windy and wet, and he even slept out on top of Slemish. He had a couple of companions with him, but they were no where near the physical fitness of this 'wee' man who is likened to the energizer bunny. One of his companions brought his 15 year-old son along as a life lesson ( punishment?) for not getting up in time to go to his 'work experience'. His name was Adam and he was quite the lad. The rain was coming down in sheets, the wind was blowing like you wouldn't believe and Adam had just made his one and only climb when I arrived on the scene.
I asked him what was going on and he told me about Canon Lloyd climbing Slemish 50 times. Adam was cold and wet - even with rain gear on. He was shivering and shaking and his teeeth were chattering as he told me the story of how he was there in the first place "his da (father) made him come along because he over-slept and didn't go to his 'work experience'". Then, saying he was 'frigging freezing` he finished the tale by declaring Canon Lloyd "mad!" He then went off to get some sleep in his father`s car.
As I listened to Adam, he would have been about the same age as St. Patrick who, as a 16 year-old was kidnapped, while sleeping in his wealthy Welsh parents summer home by the sea, by Irish marauders and taken back to Ireland, in a small boat to become a slave. He is said to have tended his master`s sheep on Slemish Mountain ( which is more of a hill than a real mountain but the Irish tend to exaggerate a wee bit by times). On that cold, wet and windy day, a young boy who needed sleep more than he needed 'work experience' helped me gain a new appreciation for St. Patrick who was a slave for 6 years before escaping his captors and making his way back home. He would return to Ireland, believ ing that God was calling him to return there. Because of his work there spreading the good news of Christianity, Patrick would become Ireland`s patron saint - embraced by all Irish - on both sides of the religious divide. Anyway, this story appeared in the weekly paper of my hometown Ballymena and brought back many memories of my month of hiking and walking among one of the most beautiful places on earth `the green Glens of Antrim back in 2008. Time for another trip 'home'.
PS - I`m sure there must be some people out there who have stories of their own hometown to tell?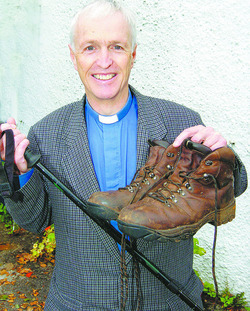 The Rev`d Canon Stuart Lloyd
Ballymena Guardian, Thursday, 25 August 2011
''''Climb every mountain! Canon Stuart Lloyd from St Patrick's Church of Ireland, Ballymena, with his trusty walking boots which will be trampling all over Ireland's highest peaks this weekend.
BALLYMENA minister, Canon Stuart Lloyd, will be climbing the highest peaks in each of Ireland's four provinces in just 48 hours next weekend. (26-28 August).

Rev Lloyd, Rector at St Patrick's in Ballymena, is taking up the dramatic 4:48 Challenge to raise money for Christian Aid's vital overseas work with the world's poorest people.

He will start his 48-hour challenge with a quick climb up Slieve Donard in the Mournes on Friday afternoon.

As soon as he gets down from Ulster's highest mountain, he will be in the bus and off to Co Wicklow in Leinster for an early Saturday climb up Lughnaquilla.

Barely stopping for breath, Stuart will then head west for Connaught's highest mountain, Mweelrea in Co Mayo, and climb that on Saturday afternoon.

After just a few hours sleep in a youth hostel, he will finally take on the highest mountain in Ireland in the pre-dawn hours of Sunday morning - Munster's Carrauntoohill in Co Kerry. He will need to be up and back down again by two o'clock in order to complete the challenge less than 48 hours after it began in Newcastle, Co Down.

In all, Stuart will have ascended an exhausting 3,300 metres or 11,000 feet! Stuart says, "I've always been a keen climber of Slemish, following in St Patrick's footsteps."

The mountaineering reverend also has many links with Nepal, so he says he is very aware of poverty overseas as well as high mountain climbing. "I like climbing mountains; in this case it's with a purpose, and that is to enhance the work of Christian Aid.
the running rev!