Running a Great Race ....
December 29th, 2010
Mo Farah is currently the UK's finest distance runner of his generation - a far cry from his humble beginnings in Somalia, arriving in London from Mogadishu at the age of 10 or 11 ... be sure to watch the race - good quality video of the European 5000 meter final.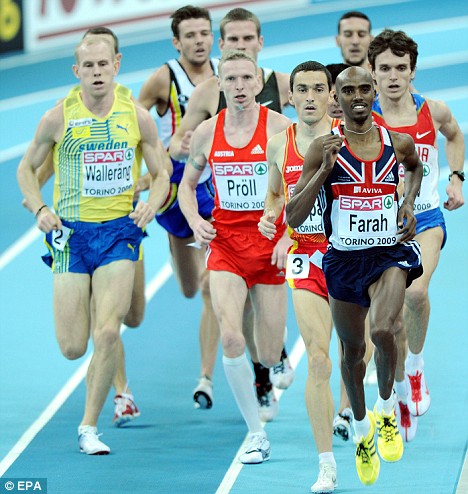 http://www.youtube.com/watch?v=cWvSBQGsgHM
Mo Farah is Britain's finest male distance runner of his generation.

Born in Somalia, he arrived in London as a refugee from Mogadishu – aged "10 or 11" – with limited English.

Despite struggling at school he enjoyed football and featured as rightback for Feltham Community College, Middlesex. However, PE teacher Alan Watkinson recognised Mo's running potential and encouraged him to join the local athletics club – although he had to bribe him with 30 minutes of football before taking him to training.

Farah quickly established himself in athletics, racking up five English Schools' titles as a teenager and making his mark internationally by finishing fifth, aged 16, in the junior race at the 1999 European Cross Country Championships.

Two years later he cemented his position as Europe's foremost teenaged endurance runner by winning the European Junior 5000m gold medal and a silver medal in the junior race at the European Cross Country Championships.

In 2003 Farah won a 5000m silver medal – behind compatriot and good friend Chris Thompson – at the European Under-23 Championships and posted a new personal best: 13:38.41.

However, he struggled to convert his junior promise and his career stalled because of a number of niggling injuries in 2004-5.

It was at this point that Farah made a decision to change his attitude and approach to the sport. He moved in with a group of Kenyan athletes in Teddington and quickly realised he needed to live, eat and breathe running if he wanted to progress. He also spent time training with Australia's Craig Mottram, the world 5000m bronze medallist.

Bolstered by this more committed approach, Mo made a huge leap forward in 2006. He climbed to number two on the all-time UK rankings for 5000m – 13:09.40 in Heusden, Belgium – and later that summer claimed a silver medal, just 0.09 behind Spain's Jesus Espana, in the 5000m at the European Championships. He then capped an outstanding breakthrough year by becoming only the second Brit to win the European Cross Country title.

Mo's ability to perform on the international stage was maintained in 2007. In March he finished an impressive 10th at the IAAF World Cross Country Championships in Mombasa and was sixth in the 5000m final at the World Championships.

He has also started 2008 impressively, recording 27:44.54 – the fastest time by a Briton in almost eight years – on his 10,000m debut. However, despite winning the 5000m at the European Cup in France the Olympic Games proved a bitter disappointment as he finished sixth in his heat and failed to reach the 5000m final.

Driven by a fierce desire to put behind him his Olympic heartache, he spent much of the winter training among the world's top Africans in Ethiopia and Kenya. In December he showed the early signs of a return to form by landing the silver medal at the European Cross Country Championships behind multiple champion Sergiy Lebid.

And, earlier this year, he proved his growing status as one of the world's most promising distance stars by enjoying a scintillating indoor campaign. Farah twice lowered the British 3000m record - running 7:40.99 in Glasgow then 7:34.47 in Birmingham - before signing off his indoor season in style by producing a mature, tactical display to strike 3000m gold at the European Indoor Championships in Turin.