Read it, run it: Cape Breton Trail Relay Race by Charles Mandel
May 29th, 2012
...... Cape Breton Relay .....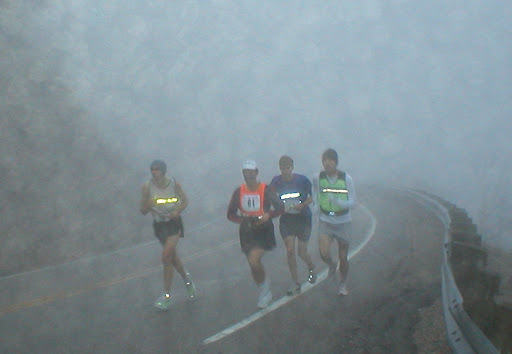 You run 6.2 kilometres up a mountain that climbs 385 metres, pushing yourself for a total distance of 14.7 kilometres, at night no less, and what do you get? A place mat?
What kind of race gives you a place mat for performing such a ridiculous feat of endurance?
Seriously, the Cape Breton Trail Relay Race (CTRR) is unlike anything else out there. Set in the stunningly drop-dead gorgeous highlands of Nova Scotia's ridiculously scenic Cape Breton, this 17-stage, 24-hour relay race pushes everyone to their limits.
It's not just the three mountain stages, the endless rolling hills, the relentless humidity, and the fierce winds that make running so competitive here; it's the sheer level of competition. The CTRR attracts some of the best runners from across the Eastern Seaboard, all of whom are anxious to win a stage and bragging rights along with it.
Nor are those the only reasons. Every year 70 teams made up of 17 runners apiece gather in Baddeck to begin the stage race around the trail. Naturally, with that many like-minded individuals gathered in one place, things become – shall we say – festive. For example, a relay tradition are the pancakes available after Leg 16. And at the race's end is a massive steak and lobster supper for the participants.
But before they can eat, runners must earn their chow.
The 70 teams, previously picked through a lottery process, compete against each other, pitting individual runners on each of the 17 stages. The stages are rated from two (easy) to five (very difficult). Most offer challenges of one kind or another.
The first three legs are described as "rolling," a relative term in Cape Breton. What might be considered large hills elsewhere are merely "rolling" on the island. The real fun begins with Leg 4, a 20.01 kilometre stage that takes runners over the ~cough~ rolling hills before landing them at the bottom of Cape Smoky.
for the rest of the story go to Charles blog ....
http://subthree.wordpress.com/2012/05/29/read-it-run-it-cape-breton-trail-relay-race/