DECEMBER ISSUE OF FOOTNOTES
December 22nd, 2011

Every now and then, once in a while, when there is nothing to do, and I am bored, and not really in the mood to go for a run, and I don't want to carbo load on the chocolate chip cookies, I pick up George Sheehan's book 'Running & Being'.
Dr. George Sheehan believed that the body determines your destiny. Your mental and spiritual best are out of reach without the vigor and strength of your body as it was meant to be. It is that effect that is the great benefit of running. To become your best self, you must first become an athlete. Being fit may give you a longer life, I emphasis 'may' with less risk of disabling disease, but what it really gives you is your 'self' as you were meant to be.
.
Dr. George Sheehan - also known as the Running Guru - introduced me to the spiritual side of running away back in the mid seventies. His little book is probably been around longer than most of you runners who have joined us over the last couple of years. Many of you are getting pretty good too! These days I am not a serious runner, but for the last thirty years I have been very serious about running. The spiritual benefits available in running--appreciating nature, the changing seasons, fall foliage, fresh snow, flowers dancing in the breeze and trees dressed in their green summer dresses, not to mention making new friends .....
Running is also time spent developing a communion with others, having breakfast or dinner with a group of like minded people, discussing and seeing how things in the universe connect, the rhythm of sunrise and sunset, meditating on the beauty of the world around all of this, we even touch on religion and politics every once in a while.
The breakfast conversations help keep me grounded and connected. I find running can quiet the mind, provide opportunities for introspection, especially on those long runs or when facing a disastrous injury. Injuries can help you become more as you were meant to be. You find out a lot about yourself as a long distance runner - especially when injured - and its pretty hard to lie to yourself too.
.
Former cross-country champion and Olympian Doris Brown Heritage says the spiritual quality of her runs enhances her overall quality of life. "I run every morning with an attitude of worship and thankfulness as nature unfolds, says Heritage, 64, a track and cross-country coach at Seattle Pacific University. "There are things outside ourselves that can feed our souls."
.


The other Saturday morning running the famous NOT-THE-HONOLULU HALF MARATHON was just a wonderful experience. Harry 'the flying dutchman' pished me to run the last 4 laps harder than I would have liked. Our friendly competition helps us keep 'play' in our runs. The lead pack was far ahead, but still in sight for a while until they overtook us at least twice - the third time I just closed my eyes and went into deep denial. Then when th4e flying Dutchman changed the colour of his hat, and suddenly was behind me - he can be snealky sometimes - then it was head down and make for the finish line - there was only 8 seconds separating us. It was one of the better days weather wise, and that was good for the hardy volunteers who handed out the 'cards' for the first ever Poker Run. Thanks to all for another great CCRR club event. Hopefully next year the weather will make it feel more like the NTHM than the Honolulu Marathon. We are aN All weather runnering club and so I say "Come on Old Man Winter, or Mother Nature, bring it on!"
.
On the roads and trails, and even when running in circles they are for me places were I can offer worship. It is while on the roads and trails, and especially at the top of a good hill, overlooking a breathtaking view of the city or the Saint John River from the top of Springhill that I can dream, reflect, and give thanks for all that I have and hope for and have the good health to pursue and thoroughly enjoy. Running is time spent with nature surrounded by the awesome majestic beauty of the universe which points me to the Creator - the One we call Immanuel - God with us.
Merry Christmas and a Happy New year!
the running rev.
p.s. here is an article that is worth reading, especially the newer runners, so that you might get a sense of what makes us older runners tick. The article speaks for itself and the Marathon was the 2008
FOSSILS' COLUMN
By Steve Scott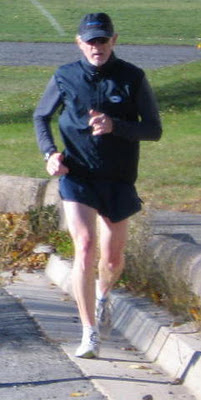 In keeping with the theme suggested by our illustrious Editor, I will attempt to describe my latest marathon effort. The Legs for Literacy Marathon in Moncton was the target. This marathon is not too hilly generally, but has just enough up and down to make it interesting. With the weather forecast indicating a tropical storm touching down late on Saturday (the day before the marathon), we were filled with foreboding as to the wisdom of actually running this event. But despite our concerns, we relied on the organizers to let us know whether they would hold the marathon or not.
Tom Reddon and I were driving down the morning of the marathon and Tony Tremblay, who was already there, agreed to pick up our bag of stuff for us to save time. As Tom and I left my place at 5:15 am Sunday morning, I asked him if he thought that we were totally mad. His reply was, probably as we turned on to the 4 laner and headed for Moncton in the torrential rain and the howling wind. The temperature was 3 degrees. The rain had almost totally abated by the time we got near Moncton. We decided that just maybe we would be OK.
.
Later as we turned into the starting area at the school the rain picked up along with the wind. Several people were noted heading out early; they did NOT look happy. We met up with Tony and discussed our strategy in these conditions if the marathon did get underway.
.
As luck would have it, the organizers decided that they could not cancel, so we all trudged off to the start in the pouring rain and the howling wind. Everyone was thoroughly soaked by the time the gun went off. As we got to the main street the rain began to slacken and the wind got even worse. So bad that there was no way to establish your intended pace. It was a continual struggle to remain on your feet with the wind at your back.
.
A short while later the rain stopped and the sun began to break through the clouds and it got warmer. The race course meandered down wind for about 5 km before we turned into the wind which registered a steady 50 kms per hour with gusts in the 70s. The course continued into the wind on the trail along the Peticodiac River which is a vast open space, for about 3 to 4 km. At this point Tony lead the way and tried to shelter me from the wind. Tom had dropped off the pace. The wind was so bad, that any kind of speed was almost impossible.
.
Eventually we turned back and got what benefit you could get from the wind. Again, staying on your feet was quite difficult. The Marathon continued along the trail system which skirted the marshes all the way with sections that went out into the marsh for some distance. This continued until we got well into Dieppe where we eventually turned inland for a section which eventually brought us back to the trail system on the marsh.
.
When in this inland section the wind was still noticeable and everytime we went down a hill the wind was at our back and everytime we went up a grade the wind was in our face. About 27 to 28 km I knew that I could not continue at the designated pace and it seemed that Tom was either behind or ahead.
.
We soldiered on as best we could and about 31 km we were all running together and gave Tony permission to go on ahead as we had to slow down even more or we would not finish. Shortly after that we were back on the trail, only this time the wind was definitely back in our face. Before long we were doing some walking intermixed with running, but eventually the wind seemed to literally take the life out our legs and we began to to walk only at the 35 km mark.
.
The course eventually wandered back into town, but by then it was too late for me. I could no longer run as cramping in my legs did not permit it. Tom decided to try running for a bit and I asked him if he made it back, would he come out and pick me up. He said yes and bid me farewell. I continued on slowly, painfully and without any real hope of actually finishing. People came by and asked me if I needed a drive. Since I was waiting for Tom to show up, I declined and continued my death shuffle.
.
As I approached the last water stop at about 40 km a young woman came out and walked along with me and wondered if I could use some company for the last uphill of 2.5 km. I said yes, I would like that and then I heard Tom hollering at me from his car and asking me if I wanted a drive. Without thinking, I said NO, because this woman was going to keep me company the rest of the way. A good conversation took my mind off the ever present pain and strengthened my resolve to finish no matter what.
.
I have never started a marathon that I did NOT finish and so it remains. Fifty-nine starts and 59 finishes. As I left the lovely woman who helped me through a very dark hour, I found that I could even run again, albeit painfully and slowly, but I did manage to run across the finish line. What did I learn from this experience? Probably that I never should have started this marathon due to the abysmal conditions. That there are people out there who appreciate what you are going through and will do their best to help you along the way.
.
That I am probably getting too old to run marathons. That I am as stubborn as they come and I do not quit no matter what. That running long distances for the last 27 years is a part of what I have become and it is very hard to come to terms with your mindset and your aging body.
.
That very often after giving more than you have in the tank, is a prelude to serious illness. At this time, 20 days after this last marathon, I am now battling pneumonia. Well I guess that's it for now; see you on the roads when I recover. Just remember, there is no finish line???
.
Steve