September Footnotes
September 1st, 2011
Ultamarathoners go the distance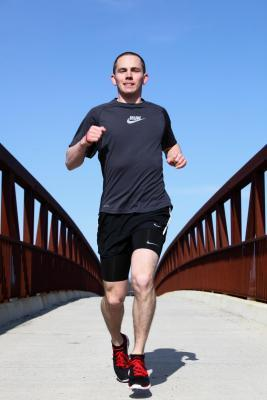 "Today is my 75th straight marathon," says Scott Cannata, reached just outside Caledon, Ont., as the runner makes his way across the country from St. John's to Port Renfrew, B.C.
Scott Cannata, who's running across Canada for cancer research, says many of us throw up too many barriers to doing seemingly impossible things.
Cannata, a 25-year-old anthropology student at Trent University in Peterborough, Ont., had only completed one marathon prior to lacing up his Nikes for a (literal) cross-country run, but he believes that, in general, people have become too timid in terms of their expectations.
"I have lots of time to think on the road in the middle of no-where, and I believe we create these boundaries and restrictions on our day-to-day actions," said Cannata, who has adopted his girlfriend's vegan diet since beginning his run on May 1.
"If you can convince yourself that the seemingly impossible is possible, you can absolutely do anything that you like."
Call it the power of positive thinking or else just runners with loose screws, but as recreational running becomes more popular, extreme running events are gaining more attention, too. The question is: Why would an otherwise rational human being want to run something like the Canadian Death Race, a nasty 125-kilometre trek across the Canadian Rockies?
"If you're not in the subculture, it's very difficult to communicate, but I don't think of ultra-running as something like skydiving," said Dr. Nick Holt, an associate professor in the faculty of physical education at the University of Alberta, and a two-time finisher of the Death Race (and onetime dropout).
Holt describes his Death Race experience in terms similar to how a returning soldier might describe war. He began his race at 8 a.m. and, after running up and down mountains all day, he reached a 2,000-metre cliff at 10 p.m.
"You fight through it when you can barely keep going and there's a lot of falling over, but I went in with the mantra: 'I'm just going to keep getting up,''' said Holt, who's working on a paper about his experience and training for next year's race.
"You feel worse than you've ever felt before, but you have to keep going, and there's just very few circumstances in life where you have to push forward when every fibre of your body tells you to stop. Once you're in it, it consumes you."
Dr. Greg Wells works at the faculty of physical education and health at the University of Toronto and he calls extreme athletes "outliers." He says folks such as Scott Cannata and Candace Sutherland, a 17-year-old from Winnipeg who ran across the country last year, are making even recreational runners re-examine what they can do.
"There are always going to be human beings who push the limits - that's why we went to the moon," said Wells, who once spent four months cycling across Africa and specializes in the physiology of extreme athletes. "These people are expanding the notion of what we're capable of and giving us new answers to the question: 'How far can we go?' ''
For Cannata, that question began with a passion to take a stand against cancer. After watching his mother battle through cervical cancer and then his grandfather succumb to the disease, Cannata decided to get involved.
Hoping to raise awareness through a grand gesture, he took a page from Terry Fox and headed out across the country. He says that when he gets stiff or tired or has to battle through cramping or bad weather, he makes the race about more than himself. He makes it about all of the people who are battling the disease.
"My mom was diagnosed when I was 12, and watching her go through surgery and radiation treatment and becoming so sick had a really heavy impact on my life," Cannata said. "Then, when I lost my grandfather, I felt like we've got to do something in terms of research and development. If my contribution is calling attention to this, then I can and I will run a marathon every day."
For more on Scott Cannata, and to contribute to his Run to Live project, please see theruntolive.com.
published in the Daily Gleaner - Sept 1st, 2011