HARRY & HENNY'S GREAT ADVENTURE
July 22nd, 2013
WEEK 5 - DAY ONE - SEA TO SEA BIKE RIDE
HALF WAY THERE
FAIRBURY — On June 24 a group of cyclists dipped their back tires in the Pacific Ocean with a goal to dip their front tires in the Atlantic within nine weeks.
The Sea to Sea "Cycling to End Poverty" bike tour group camped out in Fairbury's city park Saturday after traveling from Red Cloud.
The group is on a nine-week cross-country bike tour to raise awareness and money to fight poverty across the world.
"We are typically moving at 15 mph all day, so it is a lot different than looking out the window of a car," Cyclist Eric Stehouwer said. "You are feeling every hill. You are feeling the wind at your face and you're talking to people in town eating at the local cafes."
For Stehouwer, this is his second tour and this time he is riding with his parents and two brother who are 18 and 14 years old.
Stehouwer is doing the whole tour with about 80 other cyclists, but many cyclists choose to take on one-week legs.
The cyclists average 70 to 80 miles a day. So far, the group is on schedule but has had some setbacks like having to load the cyclists on buses because of excessive heat warnings and having to reroute in Colorado because of wildfires.
The riders tend to camp out in city parks or Christian schools. In Fairbury, they had the choice to set up their tents in the park or set up sleeping bags in the community center.
Each cyclist had a fundraising goal of $10,000.
One of the group's truck drivers, Hank Vlaardingerbroek, said after expenses they hope to distribute $1.5 million amongst agencies primarily Christian Reform Church and the Reform Church of America.
Part of the money raised will also go to grants that the cyclists' local churches can apply to receive.
A caravan of 22 volunteers, tractor trailers, vans and trucks follow the cyclists each day providing, water, food and space for personal items.
Stehouwer who was working at a greenhouse said taking nine weeks to do the tour was convenient for him, but many riders are away from their jobs and families.
Other challenges on this tour has been accidents
"We have had a couple of road obstacles," Vlaardingerbroek said. "A couple of people have broken their limbs."
Despite the risks, Stehouwer said he believes in the cause and there is nothing like biking in places like Colorado.
"It is huge sense of accomplishment to bike up a mountain," Stehouwer said.
The group will begin biking again today and reach Iowa this week. The group's goal is to end the tour on Aug. 24 in New York City.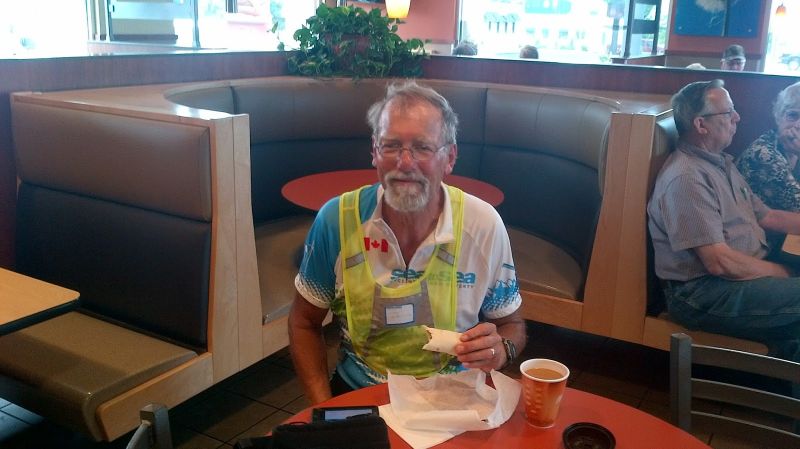 Henny and I left a little bit later than usual and were going for an easy ride of around 80 km. She felt that I was chomping at the bit and said " go ahead ". Oh man, oh man, did I boot it! I passed hundreds of bikers like they were standing still.

Since Henny will be reading this,I think was maybe there were 10 or so.
But it felt sooooo fantastic!