Harry's Challenge for Clinic Runners
December 31st, 2009

Hi everyone,
My name is Harry Drost. I was born in Holland more than 60 years ago, and I love running. I started my running career at the end of the eighties. My first "run" was about 1 mile, and I had to get my breath back afterwards which too me more time than the run. This is likely something that you have gone through yourself. Over the years I have participated in 14 marathons and many 10 km races and 1/2 marathons. The pace of my running is very slow and for the last few years I am running at the back of the pack. Over the next few months you and I will be sharing a lot of time on the road. My wife of 37 years of marriage is looking over my shoulder as I write, so I had better mention her as part of the challenge as well. She is going to do the 1/2 marathon training, and keep an eye on me at the same time.
So... that was the intro. Now we have to set goals. For you as a first-timer, you want to finish and that is good enough. If it is your second or third marathon or half, then you can set a time and train accordingly.
My goals are to:
1. Stretch (I hear many old-timers laughing when I say this)
2. Lose 20 pounds
3. Run a 4 hour marathon
4. Beat John any way possible.
5. Keep writing an article every week for the next half year.
From you as a reader I look forward to getting feedback. Ideas and questions are appreciated. We will soon have a "response" section available here, but until then, you may contact me at hhdrst@rogers.com.
Looking forward to meeting all of you on Saturday morning at 8:30 am.
--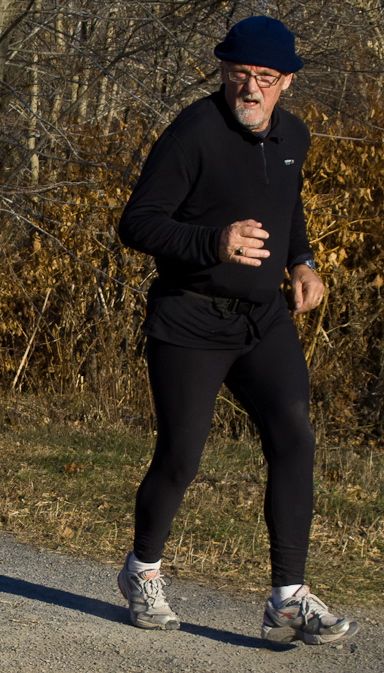 From "The Back of the Pack" Harry