Fredericton Marathon Moments
May 10th, 2010
Inspiring Fredericton Marathon Moment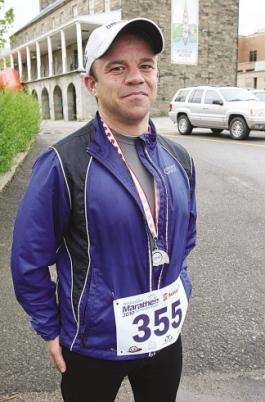 Mark Black hasn't let the challenges he's faced in life prevent him from doing what he loves.
Mark Black participated in the Fredericton Marathon on Sunday. Black was born with a heart defect and received a new heart and lungs in 2002. Black, who lives in Moncton, ran in the Fredericton Marathon on Sunday, completing a half-marathon race in about two hours and 16 minutes.
This wasn't Black's first half marathon. He's been an avid runner since shortly after receiving a heart and double-lung transplant in 2002, when he was in his early 20s.
He said he was born with a heart defect, and he had surgery when he was one day old that allowed him to live for quite some time. His condition declined when he was 22. "I went into heart failure, and eventually the doctors said, 'You need a heart and lung transplant,' " Black said. "I was lucky. I was only on the waiting list for 10 months."
Once he received his new heart and lungs, Black said, he didn't waste any time before starting to do some running. "As a young kid I was into running, but for about seven or eight years before the transplant I wasn't able to run anymore," he said.
"It was something I wanted to get back into. I ran my first 5K probably about six months after the transplant, and ran my first half marathon about a year and a half afterward."
Black said he enjoys leading an active lifestyle, and also likes the social aspect of running. "It's a great way to meet people and have fun," he said. "It's also a way to set goals and stay motivated to be active."
He said he hopes that sharing his story will encourage others to consider organ donation.
"I'm alive because someone made a decision in a difficult situation to give their loved one's organs," Black said. "There are 4,000-plus Canadians right now who are still waiting. It's really important that people have a conversation with their family and make the decision together."
He said signing an organ card is also important, but added that since the card isn't a legally binding document, it's crucial that people discuss their wishes with their loved ones.
"If something happens and your family says no, the donation won't happen," he said. "I encourage everybody to have that conversation, because one person can save or improve the lives of 40 other people. It's a pretty amazing thing you can do for someone else."
Black said he didn't quite reach his goal time Sunday of two hours and 15 minutes, but he was pleased by how the half-marathon run turned out. "It was a great day," he said. "We all had a lot of fun."
<><><><><><><><><><><><><><><><><><>
<><><><><><><><><><><><><><><><>
ANOTHER FREDERICTON MARATHON MOMENT OR TWO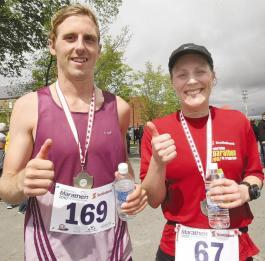 Chris Brake & Maggie Johnson returned to the Scotiabank Fredericton Marathon Sunday, winning provincial titles.

But the 28-year-old Brake won the men's race for the seventh time, in a time of two hours, 34 minutes, 46 seconds, nine minutes and nine seconds faster than "friendly rival" Alex Coffin, last year's winner.
"I think I'm in the rear view mirror," said Coffin. "Chris and I have had some great races, but I think he's improved to the point where, if I'm ever able to beat him, it's through smoke and mirrors. He's got the ability now."
For Coffin, the race was a Mother's Day gift to his mom, Kathy, who begins radiation treatment for brain cancer this week.
"It was nice to do that," he said, his voice breaking. "It was really good to do that, and we'll see her later today."
Johnson left her husband and two children home while she tackled the Fredericton course and conquered it in a new personal best time of 3:15:50, tops among women and 24th overall among the 179 marathoners who tackled the 42.2 kilometre course.
"I beat my last time by two minutes almost, so I'm pretty excited about that," said Johnson who preferred wind, light showers and 13 degree temperatures to, say, breakfast in bed on Mother's Day.
"It's the perfect Mother's Day present," she said. "I think we should get to spend it the way we like, and this is perfect."
This was her third win, following victories in 2006 and 2007. It's turning into a Mother's Day tradition.
"I like it because it's close," she said. "It's only $60 (entry fee) and there's tons of people here. I think it's a really great event. I like the course. A lot of people say out and back and out and back is hard, but I find you know where you are and when you're there. There was a little tricycle along the way and it had flowers in it, and I was like "OK, once I get to the tricycle, I'm almost that far."
Setting a new personal best was a goal for Johnson, "but I didn't think I could," she said. "I usually have a bit of struggle between 15 and 16 miles, but I felt really great this time. I don't know what was different, but I felt really great. In my heart of hearts, I wanted to be around 3:15, but I didn't know whether I could do it or not, so I didn't ever tell anybody."
Brake's time was not a personal best, "but I felt like it was," he said.
"It was one of those days where I wasn't feeling quite as good as I wanted to feel, so I just focused on keeping an even effort. I felt not quite 100 per cent, so I just focused on running smart."
He and Coffin were even through the first half of the race, separated by a second on the split times.
"He kind of kept me awake," said Brake. "He forced me to go through the first half maybe a little faster than I wanted. I couldn't tell if I was going to have a good day or a bad day. I clued in when I was about three quarters of the way through that I was going to be fine."
The top Fredericton finisher in the marathon was Mike Davis, seventh overall in 2:57:25. The top Fredericton-area female was Lucia Tramonte, third among 17 females and 56th overall in 3:34:20.
In the half marathon, Shane Stewart of Oromocto was first across the line in 1:20:59, four seconds faster than John Patrick Herron of Bloomfield. Hazel Caldwell of Middle Stewiak, N.S. was the top female half marathoner, sixth overall in 1:28:56.
Dean Strowbridge of Willow Grove won the 10 k race in 35:53. Shannon McCarry of Rothesay was the top female in 41:51. Eunice Phillips, inducted onto the Fredericton Sports Wall of Fame the night before, was 31st overall in 47:46.
In the 5k, Matt McNeil of Saint John crossed the line first in 16:20. Morgan Hawkes of Fredericton was the top female, 10th overall, in 19:17.
Race director Paul Lavoie said the marathon went off without a hitch.
"I've heard nothing but compliments - it was the biggest and best yet," he said. Overall, 1100 runners and walkers took part in the event.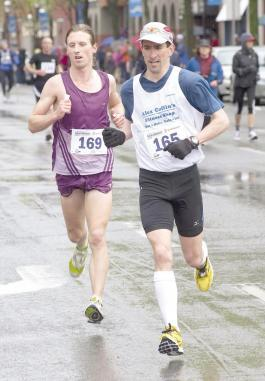 Chris Brake, left, and Alex Coffin, both of Saint John, battled for the lead for much of the Scotiabank Fredericton Marathon Sunday.
Brake finished first in a time of 2:34:46 while Coffin placed second in 2:45:55.
<><><><><><><><><><><>