The Continuing Saga of Statler & Waldorf's World
January 20th, 2010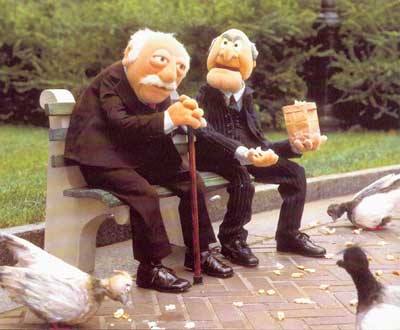 WALDORF: "Hey Statler, you hear about that buch of doctors called the Ultrasounds?"
STATLER: 'Maybe,maybe, but how the hell could I remember - can't remember if I had breakfast!"
WALDORF: "Well they are as funny as all get out and will keep you in stitches .... he, he, get it .... keep you in stitches, They''ll hold a matinee performance at the Playhouse, Sunday, January 24 @ 2pm.
STATLER: That's the worst joke I've ever heard - well except that one about the flying dutchman who calls himself a runner. I remember now, these Ultrsounds are doctors and nurses who sing,dance and are comics, and try to help people who live in poverty. They are helping hands Team Canada and they hope to the people of Haiti.
WALDORF: Yea,and if you want to go, you'd better call the Playhouse quick 458-8344 or www.theplayhouse.ca as the main show sold out in days
STATLER: AND THE COST IS ONLY A MEASLY $25 DOLLARS.
WALDORF: 'Quit hollerin'!" Anyway they could donate that anyway even if they didn't go to the show.
STATLER: "i AIN'T HOLLERING!"