FROM THE DAILY GLEANER BY LORI GALLAGHER
April 28th, 2014
ALWAYS READY FOR A RUN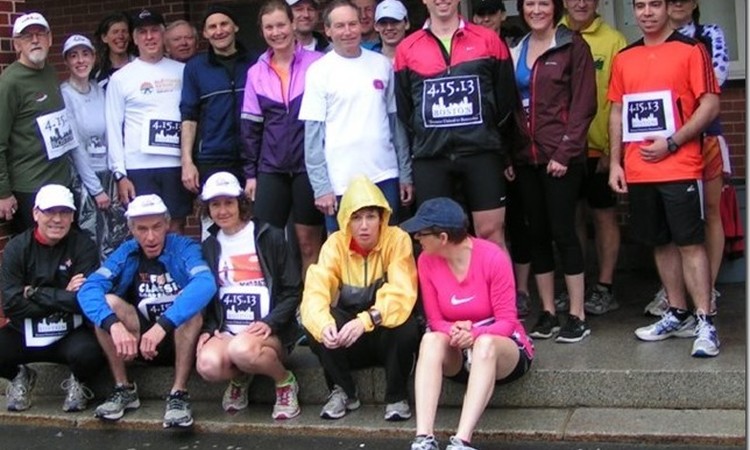 s
AS far as members of the Capital City Road Runners are concerned, when it comes to their favourite sport, it's never too early, too long or too far.
"The Capital City Road Runners club is a recreational running club, comprising members of all ages and abilities, who share a common bond of running as part of a healthy and active lifestyle," says longtime member John Cathcart, also known as the Running Rev, via email.
"Sure, we compete from time to time, but our wins are personal and we have fun achieving them. Our priorities are to put the 'fun' in running and provide a safe, supportive group with whom to train, especially during the winter."
The all season running club has been around since 1982, when a group of local runners led by Dick Mawhinney and Tim Maillet responded to an ad placed in The Daily Gleaner.
"Over 30 years ago this group gathered at the local YMCA and went on their first fun run. Tim and Dick met with other like-minded runners and a few months later, on Feb. 1, 1983, held a meeting at the Capital Court Club and selected the first CCRR club executive and, as they say, the rest is history," says Cathcart.
He's been a member since 1983, and says there are a few original members still active with the club, including Steve Scott and Paul Lavoie.
"Steve Scott's claim to fame within the club is the 59 marathons he has run and Paul Lavoie, also an accomplished marathoner and triathlete, is the face of the Fredericton Marathon," says Cathcart. "Paul's contribution to the running community is legendary among runners. He has been involved with the Fredericton Marathon forever and has been the Fredericton Marathon's race director for over 20 years."
Cathcart joined the club after receiving an invitation to do so.
"Out for a run by myself one wintry March Sunday afternoon, I met a group of runners coming up Smythe Street and someone shouted, 'Join us,' so I did," he says. "It was great running with a group of runners, and I was hooked."
He's been running with the group ever since.
"Being a member of the running club has been just a tremendous blessing," he says, in no small part because it's made up of people from a wide array of nationalities and backgrounds.
It makes for some interesting conversations during runs.
"We have doctors, nurses, physiotherapists, university professors, pastors, plumbers, electricians, librarians, car mechanics, politicians, civil servants, students, police officers, mail carriers – you name we have had them in our club at one time or another over the years," says Cathcart.
The greatest benefit of membership, however, are the post-run gatherings.
"After running 30 kilometres on a snowy Saturday morning, the appetite is usually pretty good, or after a hot July Wednesday night run, a cool beverage is greatly appreciated, as is the atmosphere as running stories are relayed, injuries discussed and strategies for the upcoming marathon, whether here in Fredericton or those going to Boston, are planned," he says.
"Most of my closest friends have come out of my relationship with the club. We go back a long time and as a fairly newcomer to Fredericton, the club soon became a home community."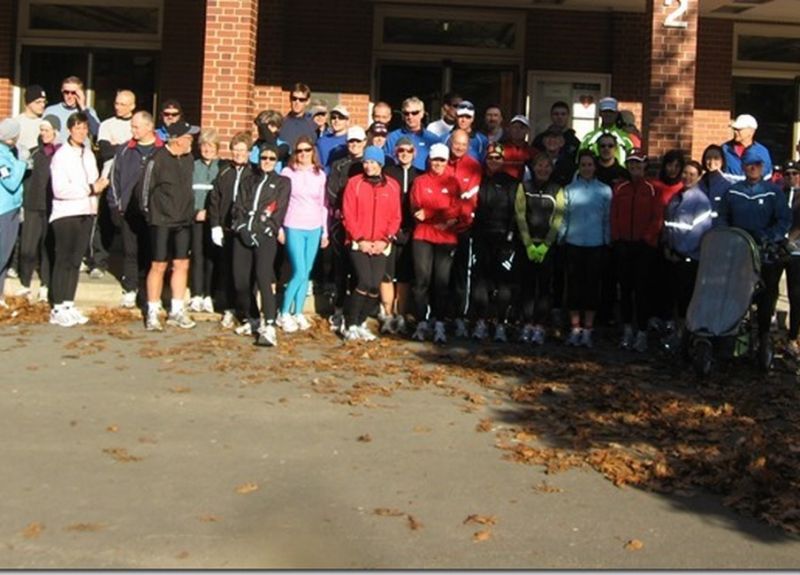 While running is an individual sport, when you race someone over 42 kilometres, you get to know a lot about their physical ability and mental toughness, and they about yours, says Cathcart.
"I am known in the club as the Running Rev and often spend a lot of time with people who are going through sickness, tragedy or grief. Running with the club helps me to deal with the stresses of life and reminds me that I am healthy and alive," he says.
Over the years, he has developed a "spirituality of running" philosophy that he believes is pretty simple.
"To give thanks for the ability to run, to give thanks for health and strength to participate in races, and to realize that growing older doesn't meaning sitting in a rocking chair when you hit 60 and to give thanks for that enlightenment," says Cathcart. "Many of our longtime runners are in their late 60s, I'm 63, and for us old codgers a 20-kilometre run is a normal Saturday morning activity and we have several members in their seventies and who still can stay with the lead pack."
He adds, "The older members of the club are not your usual retirees or senior citizens."
Over the years, club membership has ebbed and flowed.
"We go through a change every 10 years or so and we are going through such a change now. The newly appointed club executive for 2014 have many new ideas for growing the club, especially through social media," he says. "Perhaps one of the main changes is that we are known more as a long distance club and, with the help of Jos Eijkelestam and his team, (we) are hoping to make it more accessible to new and beginning runners. One of the things that remains a constant is the meeting and making of new friends – a true, rich blessing."
For Cathcart, being a part of this club has meant lifelong friendships, new friends, good parties, good runs and training partners to run with outside of the two weekly club runs.
"You will also enjoy good conversation among like-minded people interested in running over a good meal at a local eating establishment or even during a long run," says Cathcart.
The weekly club runs take place on Wednesdays at 5:30 p.m. and Saturday at 8:30 a.m. from the Lady Beaverbrook Gym on the University of New Brunswick campus. The Capital City Road Runners have been meeting there for almost all of their 30 years.
A bonus of being part of the club is that members have shower and changing privileges at the UNB gym, as well as discounts at some local sports stores, including The Radical Edge.
"Our main race is the Fredericton Fall Classic Road Race, which has been around as long as the club itself, and we have had a long involvement with the Fredericton Marathon, and one of our fun races has been the Not-The-Honolulu Marathon held in December each year," says Cathcart.
"The conditions have ranged from -20 C to snow, fog, and even ice, a truly 'fun' run in every sense of the CCRR club philosophy – if it ain't tough, it's not worth doing."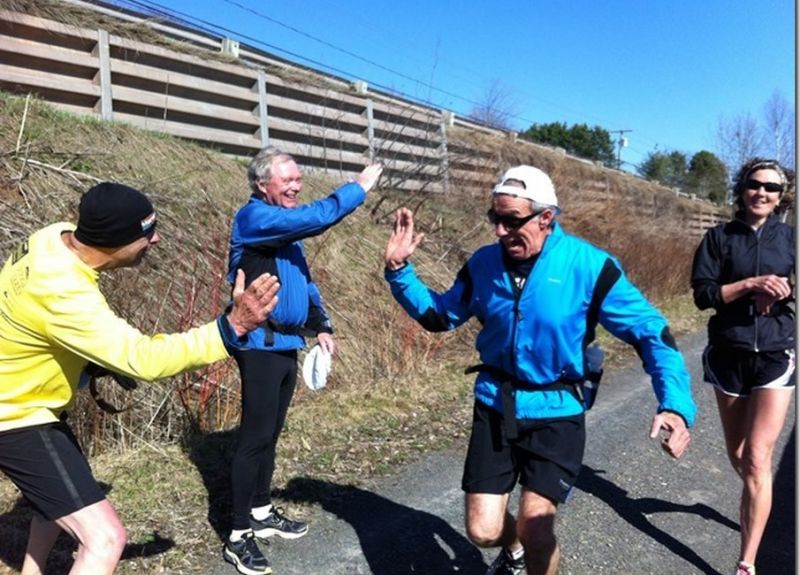 end of a tough 35km run ....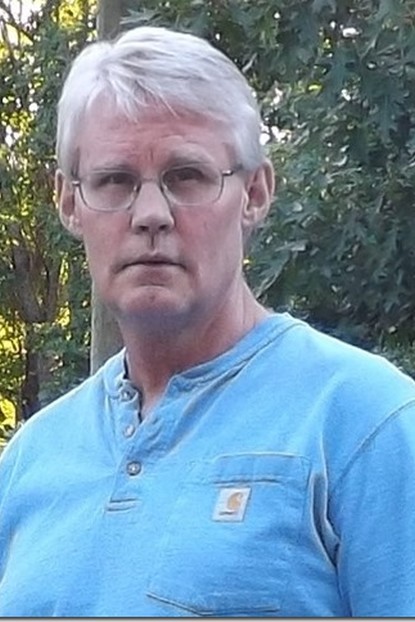 the running rev ....